Cornelius J. Mietus O.D.

As a Behavioral Optometrist practicing in Montecito for over 30 years, and a recognized Fellow of the College of Optometrists in Vision Development, Dr. Mietus is at the forefront of this increasingly recognized speciality. Dr. Mietus is uniquely trained and experienced to take optometry beyond the typical annual eye exam to an integrative crossroads, combining precision prescribing with visual performance and perceptual testing, educational psychology, visual therapy and modern disease detection and management.
Utilizing this comprehensive approach, Dr. Mietus is able to help both children and adults with more complex visual problems such as strabismus and amblyopia (lazy eye), specific reading disability, attention deficit, autistic spectrum disorders, stroke and traumatic brain injury, post-concussion therapy, vertigo, migraines and a host of other problems that many do not even associate with vision. Proper testing, diagnosis and treatment of these overlooked binocular vision imbalances can change the entire course of life for the child or adult living with otherwise debilitating visual deficiencies.
Mission statement
Going beyond "clear 20/20 vision" is our goal. We want our patients to be helped as never before with their headaches, eye fatigue and overlooked reading and learning problems by means of specialized performance-enhancing glasses and vision therapy. We do our best to meet all the visual and eye health needs of our patients in a friendly, efficient and comfortable environment. We want our patients to be happy with the way they see, and the way they look with the latest in fashion eyewear, contact lens designs and digital retinal imaging technology.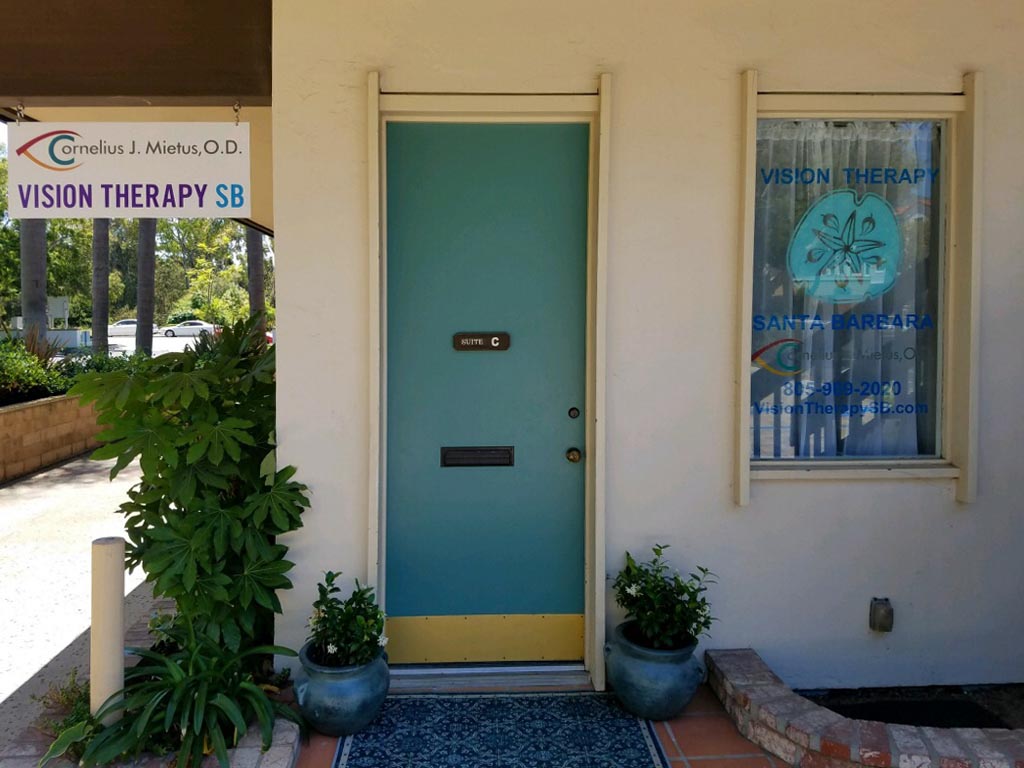 Dr. Cornelius Mietus
3710 State Street, Suite C
Santa Barbara, CA 93105
Phone: 805-969-2020
Fax: 805-565-9953
Hours
Mon - 9:00 am – 4:00 pm
Tue - 9:00 am – 4:30 pm
Wed - 9:00 am – 4:30 pm
Thu - 9:00 am – 4:30 pm
Fri - 9:00 am – 4:00 pm
In addition to general eye care for all ages, Dr. Mietus provides specialized care for:
Learning-related Vision Problems, including ADD/ADHD, dyslexia, slow reading, and tracking problems
Autistic spectrum and Asperger's help with eye-contact, attention, visual-motor skills, awareness of others, balance
Sports Vision Enhancement
Visual Rehabilitation for Traumatic Brain Injury (TBI) from accidents, whiplash and stroke
Visual stress-related problems, including blurred vision and eyestrain from reading and computer use
Headaches and migraine
Motion sickness and vertigo
Binocular vision conditions, such as amblyopia and lazy eye, convergence insufficiency (near vision disorder), diplopia (double vision), lack of stereopsis (two-eyed depth perception), and strabismus (cross-eyed, wandering eye, eye turns, etc.)
Contact Lenses for people of all walks of life including sports and presbyopia (old eyes!). People who have previously failed with contacts encouraged!
Eyewear designing and fitting and adjusting
Comprehensive eye health examinations, glaucoma, diabetes, cataract evaluation
LASIK and cataract testing, referral and co-management
Nutritional counseling and support for optimal eye health